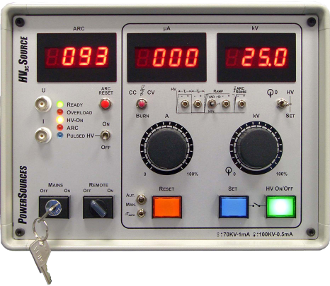 The HVDC-Series represent High Voltage Sources with variable output voltage and current and Arc-Counter.
The HVDC Series has been specially developed for
Destruction free high voltage testing
HV-DC sourcing in scientific and industrial applications
HV-Conditioning of electronic components and systems, especially for vacuum devices.
Furthermore the HVDC-Series is applied for accurately controlled operation of
Electrostatic Filter systems and
Flocking applications
if special requirements for the manufacturing quality under such processes are given.
High Voltage Conditioning
Vacuum components tend to lose vacuum while being stored unfortunately. By this effect longer stored components (starting from 3 months stocking period) face an exponential risk to fail in the start up moment. Arcs inside during the first start often destroy the unused component totally as well as the surrounding electronics.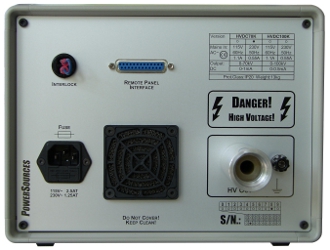 For this reason RF Power Grid Tubes, Vacuum Capacitors and similar Vacuum Products, representing a considerable value besides the system itself, are high voltage tested and conditioned at site in many applications.
This is common for Shortwave and TV Broadcast Stations and lately more frequently in Industrial RF Generators (Pipe Welders, RF Dryers, aso.) as well.
Based on the extensive high voltage experience for production of Vacuum Capacitors and RF tubes PowerSources Germany developed a totally new generation of High Voltage Test Systems. This is based on new HV DC processing algorithms not applied in manufacturing sofar.
While high volume, heavy weight and expensive AC test systems were applied in the past for HV conditioning, the HVDC-Series features a fully mobile test and conditioning method now which is more accurate, less expensive and provides significantly more safety for the operator.
The system weight of 13kg only assure unlimited Mobile Service in any application.
The HVDC-Series is applied in production, HV testing and Service of a variety of electronic components in High voltage and Radio Frequency:
Vacuum Capacitors
Ceramic Capacitors (Disk-, Barrel, Doorknob and other styles)
Foil Capacitors
Air Variable Capacitors
SF6-Capacitors
High Frequency RF Tubes
Rectifiers
Switching tubes and devices
Vacuum Relays and Contactors
Audio tubes
Active and passive high voltage components of all types
Based on the newly developed testing criteria and method the operator protect and safety is considerably improved compared to the AC Sources under operation now.
no more X-Ray emission
low energy output with ultrafast HV trip off assures non destructive testing of the components
a direct stroke of the operator is not pleasant but not killing any more
| | |
| --- | --- |
| Mains In: | 110V/50-60Hz oder 230V/50-60Hz |
| High Voltage Out: | |
| HVDC-100K05MP: | 0-100kV / 0-500µA pos. HV-Out |
| HVDC-70K1MP: | 0-70kV / 0-1000µA pos. HV-Out |
| HVDC-100K05MN: | 0-100kV / 0-500µA neg. HV-Out |
| HVDC-70K1MN: | 0-70kV / 0-1000µA neg. HV-Out |
| Pulse Operation: | |
| Flange: | X1: 0.3 - 30 Sec. X10: 1 - 300 Sec. |
| Pulsewidth: | 2 - 18 Sec. |
| Pulsebreak: | 2 - 18 Sec. |
| Arc-Detection: | Sensitivity adjustable |
| Arc-Trip Off: | depending on operation mode |
| Overload-Reset: | manually / automatic selectable |
| Reset-Delay: | 1 - 6 Sec. adjustable |
| Operation Modes: | CC: Constant Current Resolving U/I-Regulation Trip of with overcurrent and arc Burn: Resolving U/I-Regulation similar to CC but no Arc Trip Off (HV Conditioning-Mode High Speed) CV: Constant Voltage U-Regulation Trip of with overcurrent and arc |
| Overload Protection: | Semicons thermally protected |
| Connectors: | IEC-Connector with mains Fuse Interlock HV-Out (with 1.5m HV cable, shielded) Remote Control Panel Interface |
| Dimensions: | ca. B300 x H210 x T430 mm |
| Weight: | ca. 12.8kg |
| | |
| --- | --- |
| HV-Cable: | to customer request |
| FB: | Remote Control Panel |
| Rack: | 19"-Rack-Module |
| BAG: | Trolly for transport / Protection bag |